Description
Different manufacturer models with automatic transmission are offered in the "Van AT" vehicle category, which means that the layouts and bed dimensions in the rear of the vehicle vary from 1.15-1.57 m (width) and 1.85-1.93 m (length). The vehicle height is between 2.50 and 3 m. The campervans are generally very compact, making them ideal for city tours or winding roads. They can accommodate two people and have a bathroom and an extensive kitchenette.
Child seat information: A seating aid (baby seats, child seats or booster seats) with a 3-point seat belt can be fitted in this vehicle.
Note: Essentially, all illustrations show the actual vehicle, but isolated deviations are possible. The vehicle models, equipment, floorplans and dimensions may vary. Neither the local partner nor CU Travel GmbH & Co. KG accept liability for possible deviations.
Living
Air-conditioning livingroom
Touring Cars Estonia
The Finnish company Touring Cars has been renting out campers and motorhomes in various European countries since 1982. Over the years, several stations have been established in Bulgaria, Estonia, Finland, Iceland, Croatia, Latvia, Norway, Sweden and the United Kingdom. Meanwhile the offer covers approximately twenty stations. The nearly 600 premium motorhomes in the Touring Cars fleet meet high standards. They are divided into six categories. These range from campervans, which are ideally designed for two people, to spacious motorhomes that offer room for up to six people. Since mid-2021, motorhomes from Touring Cars have been bookable via the CU | Camper website. So that all those who value comfort can go on a great motorhome tour without any worries. + Read more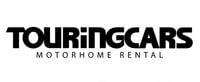 Distance from Tallinn airport: about 15 kilometers
Härgmäe 24, Haabersti
13525 Tallinn
| | |
| --- | --- |
| Mon. - Fri. | 8 am - 6 pm |
| Saturday | 08:00 - 18:00 |
| Sunday | 08:00 - 18:00 |
| Holiday | closed |
Drop off location
Tallinn
Distance from Tallinn airport: about 15 kilometers
Härgmäe 24, Haabersti
13525 Tallinn
| | |
| --- | --- |
| Mon. - Fri. | 8 am - 6 pm |
| Saturday | 08:00 - 18:00 |
| Sunday | 08:00 - 18:00 |
| Holiday | closed |