Summary
Addons
Vehicle specs
Rental company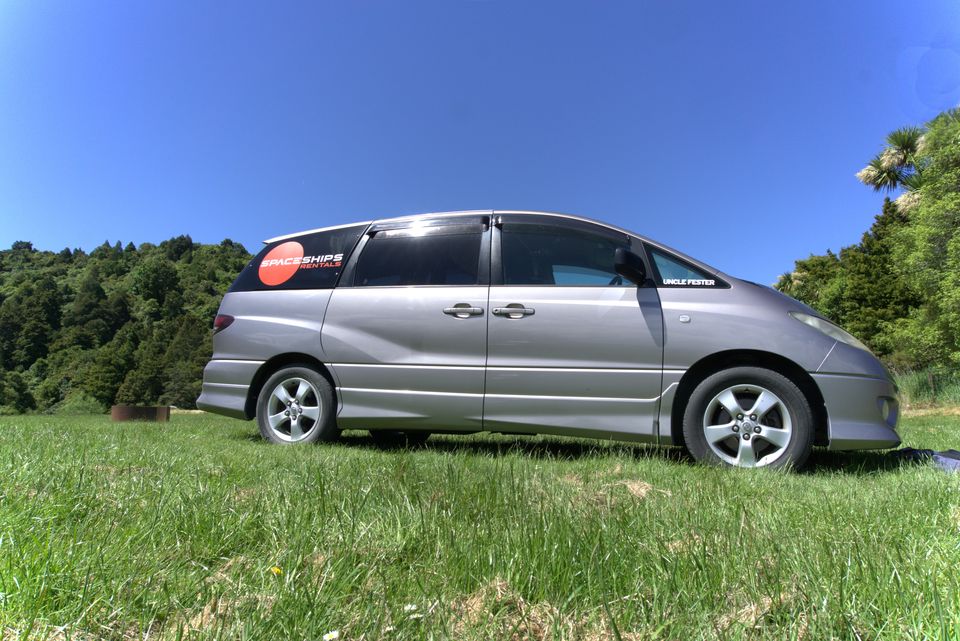 Spaceships Rentals Neuseeland
{{#specials.length}}
Special offers (already included in the price)
{{#specials}}
{{{.}}}
{{/specials}}
{{/specials.length}} {{#infos.length}}
{{#infos}}
{{{.}}}
{{/infos}}
{{/infos.length}}
Description
The Beta 2S Self Contained has the same advantages of the Beta 2S, but also offers a closed water and waste water system. In addition to the kitchen facilities in the rear of the vehicle and a double bed, which can be expanded as needed by adding a tent, the vehicle offers solar panels on the vehicle roof for power generation, fresh / waste water tank and a toilet. This closed water system entitles the use of pitches that require the seal "self-contained".
Optimally suited for two people.
Child seat information: No child seats can be installed in this vehicle.
Note: Essentially, all illustrations show the actual vehicle, but isolated deviations are possible. The vehicle models, equipment, floorplans and dimensions may vary. Neither the local partner nor CU Travel GmbH & Co. KG accept liability for possible deviations.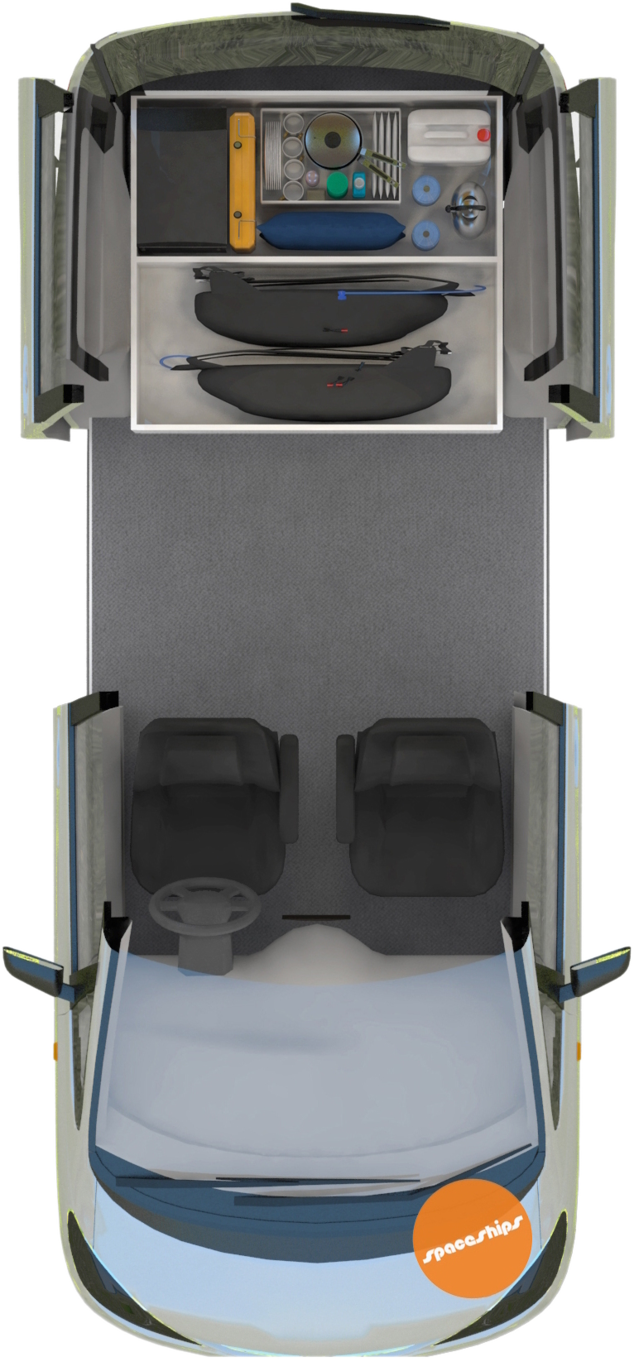 Living
Air-conditioning livingroom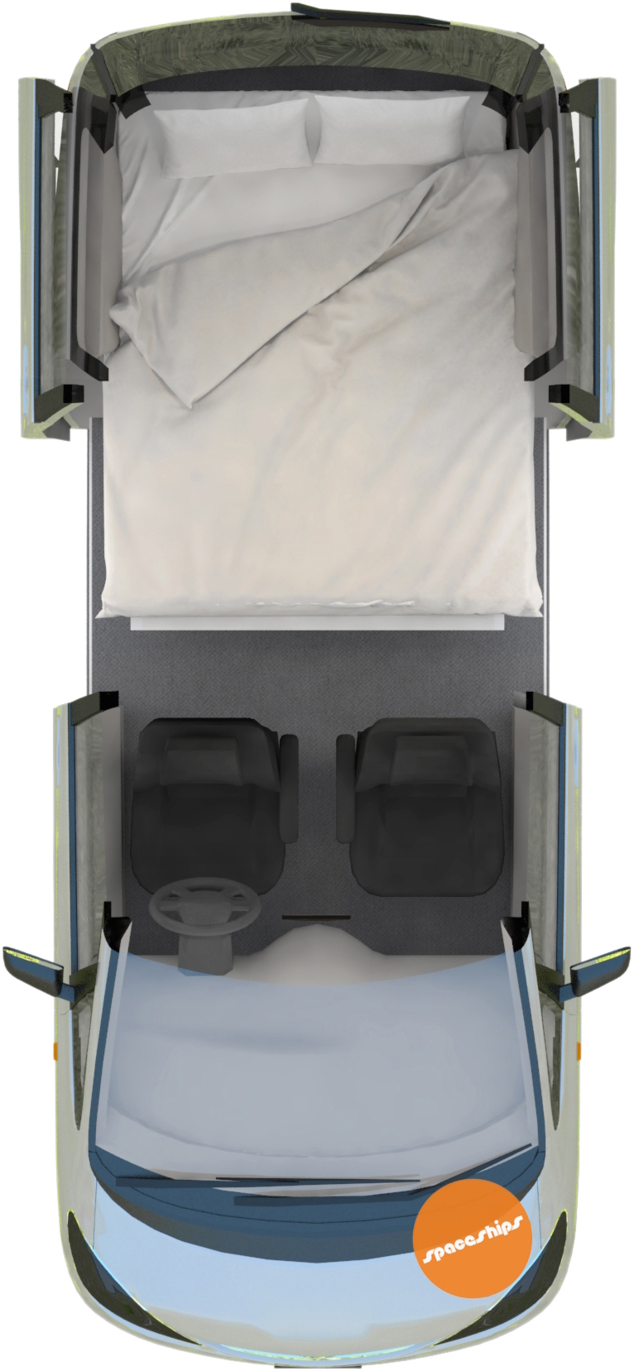 {{#items}} {{#reviews.length}}

{{#ratings}}

{{/ratings}} {{#reviews.length}} {{#recommendation}}

Reviews of other customers

{{#reviews}}

{{user}} - from {{from}} to {{to}} - {{station}}

{{#summary}}

{{label}}

{{/summary}}

{{{review}}}

{{#origin}}

Message was translated automatically

{{{origin}}}

{{/origin}}

{{/reviews}}

{{/reviews.length}}

{{/reviews.length}} {{/items}}
Spaceships Rentals Neuseeland
Spaceships was founded in 2004 and offers campervans in Europe, New Zealand and Australia. The vehicles combine the advantages of driving a car with a comfortable camping option: compact and efficient. In addition to convenient one-way rentals, the rental company also offers a free transfer from 21 rental days.
The campervans can be rented from the age of 18 and each includes a small refrigerator and a gas stove.
In New Zealand, you'll find two Spaceships locations, in Auckland and in Christchurch. Both locations offer four different vehicles each, which are licensed for 2-4 people and have a double bed. Optionally, another double bed can be added via a tent extension. All campervans are equipped with an automatic transmission. + Read more
Pick up location
Auckland
Distance from the airport: 12 kilometers Distance from the city center: 9 kilometers
30C Alfred Street
NZ 1061 Onehunga
| | |
| --- | --- |
| Mon. - Fri. | 9 am - 5 pm |
| Saturday | closed |
| Sunday | closed |
| Holiday | closed |
Drop off location
Auckland
Distance from the airport: 12 kilometers Distance from the city center: 9 kilometers
30C Alfred Street
NZ 1061 Onehunga
| | |
| --- | --- |
| Mon. - Fri. | 9 am - 5 pm |
| Saturday | closed |
| Sunday | closed |
| Holiday | closed |
{{pricePerNight}} € per night
{{duration}} nights
|
{{price}} € total
{{#avail}}
{{#FS}}
Available
{{/FS}} {{#RQ}}
On Request
{{/RQ}} {{#NA}}
Unavailable
{{/NA}}
{{/avail}}
{{dates.start}}
{{dates.end}}
{{participants.amount}} {{participants.label}}
Kilometer package
{{costs.miles}}
Insurances
{{costs.insurances}}
{{#showTeaser}}

You might also like these vehicles:

{{#vehicles}}

{{#moodImage}} {{/moodImage}} {{#specs}}

{{#columns}}

{{#content}}

{{headline}}

{{#items}} {{#available}}

{{#icon}} {{/icon}}

{{label}}

{{#value}}
---
{{.}}

{{/value}}

{{/available}} {{^available}}

{{#icon}} {{/icon}}

{{label}}

{{/available}} {{/items}}

{{/content}}

{{/columns}}

{{/specs}} {{#images}} {{/images}}

{{headline}}

{{#avail}} {{#FS}}

Available

{{/FS}} {{#RQ}}

On Request

{{/RQ}} {{#NA}}

Unavailable

{{/NA}} {{/avail}}

{{title}}

{{#features}}

{{/features}}

{{#floorplan}}

{{/floorplan}} {{^floorplan}}

{{/floorplan}}

{{#occupancy}}

{{value}}

{{/occupancy}}

{{vehicleLength}}

{{/vehicles}}

{{/showTeaser}}